Health Provider Charity Care or Financial Assistance
What is hospital financial assistance?
Hospital financial assistance can help you pay for necessary medical treatment. Hospitals offer highly discounted care to patients who meet certain income and asset requirements.
For the following reasons, you should always apply for financial assistance:
Income qualifications can be very high, sometimes for up to ten times the federal poverty line or about $300,000 for a family of four
Financial assistance discounts are usually the best discounts at a hospital, often far surpassing commerical insurance
Hospitals consider patient's financial status on a case-by-case basis
There is no cost to applying
If your household income is less than four times the federal poverty line and you have less than $10,000 in liquid assets, you will qualify for financial assistance at many hospitals. Four times the federal poverty line for a family of four is about $105,000 a year.
What types of discounts are available?
In this section, you will learn how charity care or financial assistance works at many hospitals. There are generally two types of discounts that hospitals will offer and the cutoff are usually based on income:
Under two times of the federal poverty line, you'll get free care called Charity Care or where you don't pay anything for your medical treatment
Under four times the federal poverty line, you'll get a large discount off hospital's sticker prices, which is called financial assistance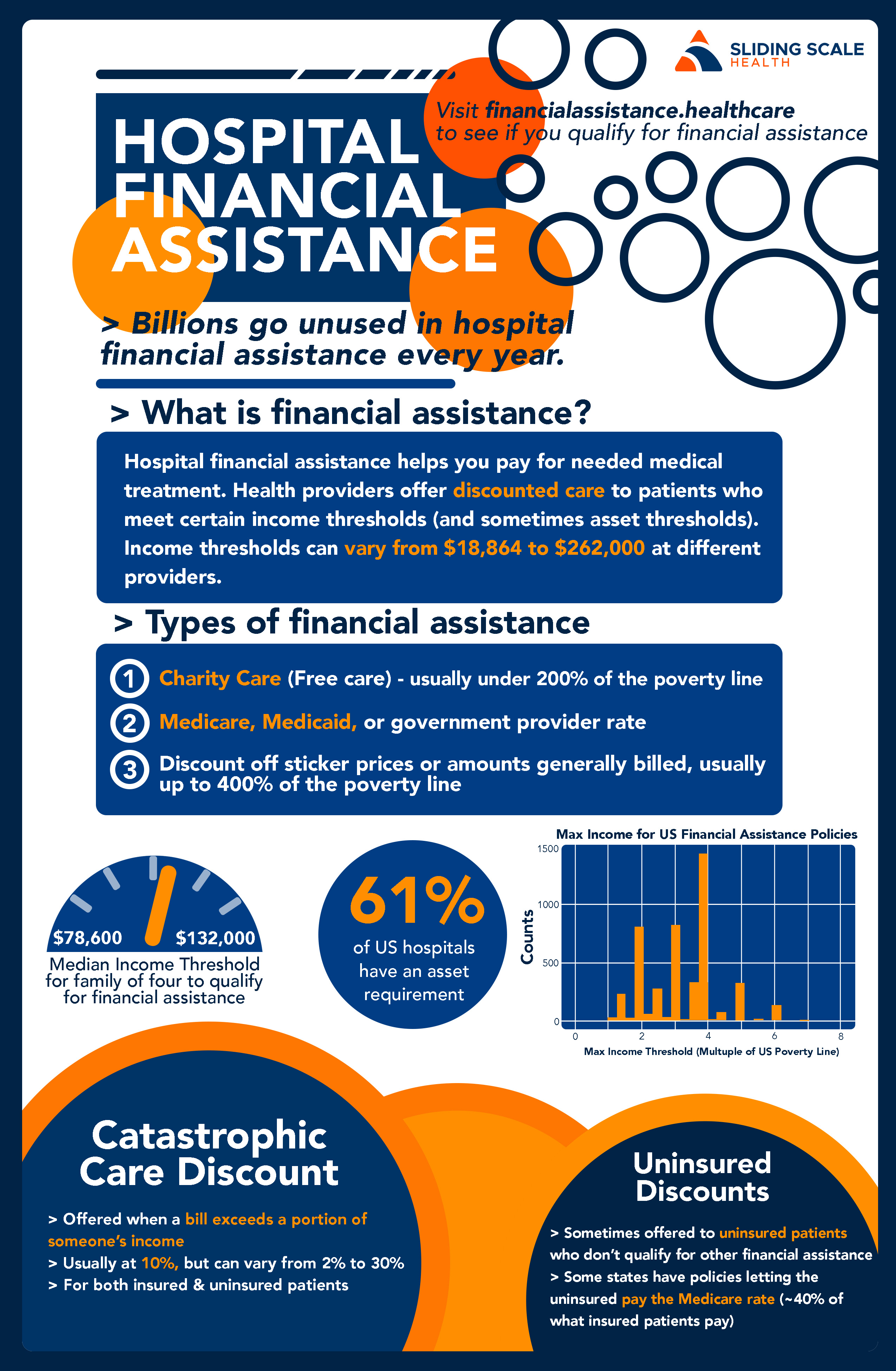 Financial assistance rates at a hospital can never be greater than the Amounts Generally Billed (AGB), which is the average reimbursement from all payers, including government payors. You can find out what the AGB from a hospital website or the financial counselor.
If you are insured, you can qualify for hospital financial assistance.
You can qualify in one of two ways:
If you make under a hospital's income threshold, i.e. often four times the federal poverty line, hospitals may help you with your co-pays, deductibles, and other charges.
Even if you make over four times the federal poverty line and are insured if your bill exceeds a specific proportion of your income, hospitals may offer you a discount. The proportion of income can vary from 1% to 30%, but most hospitals have it set at 10% of yearly income. It's called a catastrophic care discount.
Hospitals will also write off old debt for up to three years.
When determining if a patient qualifies for financial assistance, hospitals may also choose to look at monetary assets. Monetary assets generally do not include retirement accounts, pensions, or primary residence — only assets that can be easily converted to cash like CDs, savings accounts, and non-retirement brokerage accounts. The general requirement is that hospitals will consider 50% of monetary asset value after $10,000. About 40% of policies have no asset requirements. Our tool lists asset limits for plans for which it's explicitly written into the policies.
Clinic Price Check makes it easy to check if you qualify. Use our financial assistance calculator, and let us do the work for you.
The Affordable Care Act mandated that all hospitals must provide you a rate less than the AGB if you qualify for financial assistance. You can always ask a hospital for the AGB discount rate to compare to the price that you received.
---
Concepts and Definitions:
Monetary Asset Value: Some hospitals consider assets when determining if you qualify for financial assistance. In general, monetary asset value does not include non-monetary assets such as retirement accounts, pensions, and your primary residence. Hospitals generally consider 50% of asset value after $10,000.
Uninsured: While some hospitals only offer traditional financial assistance to the uninsured, almost all have a catastrophic care discount for both uninsured or insured patients.
Charity Care: Charity Care is free care or care at no or minimal charge to you.
Financial Assistance: Financial assistance is a partial discount on services. The best discounts are less than the Medicare rate or the rate at which Medicare reimburses hospitals for services.
Catastrophic Care Discount: A catastrophic care discount is a discount given when the cost of medical care exceeds a certain proportion of income, it's usually 10%, but varies by provider and can be as low as 1% and as high as 30%.
Medicare/Medicaid Reimbursement Rate: This is the rate that Medicare or Medicaid reimburses hospitals for the care they provide to their patients. Medicare and Medicaid cap rates for procedures, related to how much it costs a hospital to provide services. Thus, Medicare rates are generally a good price for a health service.
Sticker Prices: Sticker prices are the gross charges of a hospital before discounts, sometimes called Chargemaster rates. They can be between two and one hundred times what Medicare reimburses hospitals for the same service.
Amounts Generally Billed (AGB): The amounts generally billed is a measure of the average reimbursement a hospital gets from most, if not all payers. Generally, the more government payers that a hospital has, the lower the AGB at a hospital. For financial assistance, any qualified patient will not pay more than the AGB.